A couple of days ago West (my favorite art and idea collaborator) and I were having some Art Time. We were drawing or painting or talking or whatever and I mentioned to him that I had seen this art program on the Ovation channel where this guy did an example of camera obscura for his students using some awesome villa in Italy.
At the same time we both said, "We have to do that."
"We should make a goal to do that this summer."
"Hell, let's do it tomorrow."
"Okay."
So we did.
We did three of them. The first one was in the bathroom, and it worked all right but the walls were too close together and it threw everything kinda off. Part of it was awesome, but only a very small part.
The next day we did two more rooms. They worked much better. My Pursecam™ would not take a picture of it, well, it would, but not a good one. Not even a goodish one. The longest exposure it would take was 15 seconds. Just long enough to almost work.
Also on Day Two, West and I commandeered Liz to come help us play. It was probably one of the nerdiest mornings I've ever had.
Here we are using a small hole (on a metal ruler) to shorten the apperture and then put a piece of acetate in front of it. You can see how it projects the image from outside upsidedown.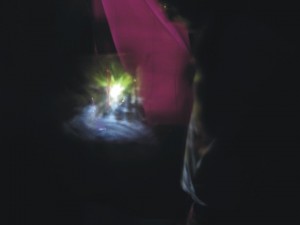 On Saturday Mr. Fleegan and I went to B'ham to buy a *Serious Camera™ (by which i mean it can use different lenses). I've wanted one for, i don't know, 5 years?
Well it rained all weekend. so no sunshine was around (which, let's face it: imperative.)
But today! I was sitting quietly reading a book (nerd) and Mr. Fleegan was watching Conan the Barbarian (like one does on Memorial Day) and he said, "Hey, the sun's out. Camera Time!"
I was all, "YES!"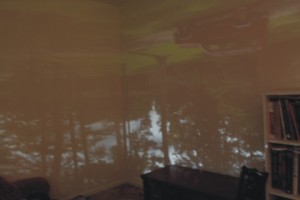 BOOSH.
I'm calling this a success because even though it's blurry, it still looks good. The reason it is blurry is
A. the camera is set to manual focus because it won't take the pic in AF and
B. the room was much darker than what it looks like in the picture and when looking through the eye piece to focus all I could see was dark nothing.
But hey, you can see the green grass, blue sky, and the jeep almost looks red.
*************
STAY TUNED FOR POINTLESS TANGETS:
*Serious Camera™: Several years ago I did the same thing with guitars. When i was 18 I bought a 12-string accoustic guitar, and played it for, I dunno, two months. It's a cool thing to own, but it's not the funnest thing to play. Then I traded it in for a better accoustic/electric guitar (that I still have to this day, it's the best.) it's an Ibanez, like you care. I thought that that would be the last guitar I'd ever buy (seeing as how I play bass). But years went by and when I turned 27 I decided that I was an adult, and as an adult I should probably own an Adult's Guitar™.
If you play guitar and are an adult, you might be thinking, "Ah, good for her!"
If you don't play guitar you might be thinking, "I hate when people talk about guitars. Who cares?!"
So i bought a Martin.
I know, right? What, you thought it'd be a Taylor? Sorry to disappoint, but c'mon,  Martin is a classic.
The Martin is straight acoustic, so no pick-up, so it's never been played at a gig or anything. But! It is the LOUDEST unplugged acoustic I've heard. It's a sweet guitar, and I rarely play it.
Because I suck, that's why. No, it's because the Ibanez has a smaller body and it's easier for me to tool around with than the Martin, but obviously, the Martin's sound is boss.
WHAT IS THE POINT HERE?
The POINT is it's time for me to own a Serious Camera™. (see, if I call it an Adult Camera it sounds like it's for porn.) So Mr. Fleegan and I made that happen this weekend, despite me being a penny-pinching miser.
CUT YOU TO THE QUICK:
And before the Internet Camera World groans out an audible, "great. another hobbyist." I'd like to remind you that I have a fine art degree. So don't "hobbyist" or "enthusiast" me. I may not be a photographer, but I am an artist. bitches.
FOR THE NERDS:  My Serious Camera™ is a Canon EOS Digital Rebel T1i. It was the most camera I could get for under $1,000. I was going to get the very beginner-friendly XS or maybe step up to the XSi, but then I noticed that the processor in my Pursecam™ (FOR THE NERDS: powershot something 1200 something something, look, i'm a Canon Girl.) was a digic4 (sorry, Dig¡c4. gay.) and the processor in those DSLRs was digic3. and i thought it would be stupid to get a better camera with a non greater-than or equal-to processor than my dinkcam, right?
well that, and the Best Buy Salesman looked like Melfa's husband and there was this bundle deal and i'm sucker.
Tags: art, liz, mr. fleegan, music, nerd, west
4 Comments