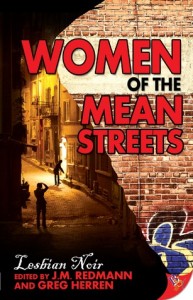 When I saw the cover of this book I was all, "Cool!"
And when I read the synopsis I was all, "THIS is going to be AWESOME."
Here's the synopsis:
Women. Crime. Justice. At least the search for it. On the mean streets, the back allies, the dark corners.

These are stories of tough women in hard places. The nights are long, the women are fast, and danger is always a short block or quick minute away. Edited by award winning author/editors J.M. Redmann and Greg Herren, Women of the Mean Streets is an anthology of some of the top, tough women crime writers today, noir stories with a lesbian twist.
See? How could I not give this a shot?
Turns out, my expectations were really high. I was thinking that the book would be short stories about P.I.s, detectives, maybe bounty hunters? Now where would I get that idea? Was it the "mean streets, the back allies, the dark corners"? Was it the Mickey Spillane-y cover? Yes and yes. Out of 13 stories maybe five or six have those type of characters, but the other half? I don't think they understood the assignment. I'm not blaming the authors, they wrote good(ish) stories, but some of them didn't belong in this book.
Three or four of the stories took place in the suburbs. I'm not saying you can't have noir in the suburbs, you totally can, but c'mon, not exactly "mean streets" there. Also, the last story is science fiction. Again, I'm not saying there's no such thing as noir in science fiction, but look at that cover and read that synopsis again. You can make a case for those stories. You can push the envelope, in fact, please do, and say that since they (the suburban and sci fi stories) are dark stories they fit the bill. I love pushing the boundaries. But in this case, with these stories, it just doesn't work.
On the stories themselves, I'd say four were totally worth reading and the rest were very forgettable.
If my expectations were too high and I'm judging this anthology too harshly, I'm sorry. I was really hoping for something like Nicola Griffith's Aud series, only with short stories, or maybe The Maltese Falcon but with lesbians. Maybe if it had had a different cover, or if the title and description weren't so heavy with the hardboiled style I could've just read it as a book with dark, creepy stories. But I feel like they're selling this book as one thing and giving you something else. That's dirty pool.
Tags: fiction, Nicola Griffith
No Comments