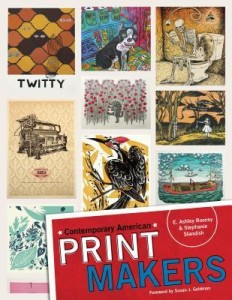 When I received this book my very first thought was THIS BOOK IS GORGEOUS.
Each page is loaded with color plates of some of the best printmaking going. The book is broken into two sections, the first is about the print makers and the second part is about the print shops. The artists' statements are short and sweet, as are the descriptions of the print shops. The range of print makers is great from serious to the perfect amount of whimsy.
While looking at this book I totally wanted to go back to my art school printmaking class to smell the smells and ink the plates. I may have to break down and do a wood cut this year!
If you're a visual artist this would be a perfect book to look at if you're needing some inspiration.
Tags: art, printmaking
No Comments