May 31, 2005
i'm working in the Clubview area this week. Clubview is one of those Bermuda Triangles of Gadsden for me (like Whorton's Bend, huh tami?), everytime i go there i get lost. it's like i know where i should be, and i know what direction to take, hell, there's a major highway right there, and i still get lost. i even roll down my window to try to hear the highway. not like it matters, i know that i need to go down to get to the highway. i'm all like, "arc II?! what the hell kind of street name is that?!" and everytime i pick a road that goes down it ends up curving back up. damn you, clubview! with your "alpine view". please. alpine? you're on a hill (at best), don't "alpine" me.
so at lunch time i go pick up dad at the Holy House. he needs to run by the locksmith's place before we eat lunch so we drive over to 3rd skreet. when we get there we're the only one's there, but when we left there were several people in line. anyway, we're waiting on a lock to be changed, i guess one of the oldsters lost his mailbox key. so we're waiting and this old lady walks in. i don't know if it's from working at the holy house or not, but dad and i both smiled and said hello to the old lady. it's habit.
so she starts in telling us about she needs two keys made because when the man came out to her house he didn't have the right cutting machine and he said that if she brought in these two blanks he'd make them for her for free. so if we could please make her those keys she'd be on her way.
"oh. uh."
"we don't work here, ma'am. you'll have to talk to that fellow over there."
so now there's three of us waiting. and this place is filled with crap. crap is everywhere. papers, keys, safes, papers, signs, papers, folders, stuff, three opened Bibles, papers. so she sets her purse down and was all, "what what is this under my purse? oh! why, it's someone's Bible!"
dad says, "yeah, there's one over here too."
"well, it looks like…oh yes, they're reading from corinthians!"
they? hmm? who is reading from corinthians? my spider-sense starts tingling.
so there's this pause for a second and the air changes and i'm thinking, uh oh, God's here.
i wonder what he's doing at a locksmith?
and the lady says, "oh, it's about whoever sows sparingly reaps sparingly. that's true! they're reading about "he who supplies seeds to the sower and bread for food will also supply and increase your store of seed…you will be made rich in every way so that you can be generous…" when we're generous it's like we are thanking and praising God. it goes on to say that… when other people see your generosity they will praise God."
dad nods his head that way in which we nod our heads at the elderly and the very young.
"and then they'll read, "And in their prayers for you their hearts will go out to you, because of the surpassing grace God has given you.""
dad nods some more. i'm about to pass out. but i'm also thanking God for taking time out to do…whatever this is…and also thanking him for FINALLY letting me have a witness to the CRAZY things that happen to me. but before i get too deep into thinking, "am i supposed to be more generous?" the telephone rings, and it's for dad. I REPEAT. WE ARE AT THE LOCKSMITH'S. AND THE LOCKSMITH'S PHONE RINGS. AND IT'S. FOR. DAD.
WHAT THE?!
he goes to the office.
she turns to me and says, "someone will read about how God loves a cheerful giver. and God is able to make all grace abound to you…so that in all things at all times, having all you need, you will abound in every good work."
"sowing generously, huh?" i say. for lack of ANYTHING coherent in my mind at this point. and it was also at this point that the moment was over. instantly.
"and i like to dig. i gotta dig. i grew up on a farm, you know."
"you… did?" i ask.
"yes, so now i have a vegetable garden. it's not very big, but i gotta dig."
"neat."
"i've got tomatoes, and bell peppers. and this man gave me a chocolate pepper plant. it's a sweet pepper."
"i've never heard of a chocolate pepper."
"oh, and some cucumbers and squash of course. and he gave me some brussel sprouts to plant but it turns out that it was really cauliflower!"
"no kidding?"
"but it's growing! and that's all that matters."
"…that's true."
"so you paint?" she could tell because my clothes are covered in paint.
"i sure do."
"oh, well do you know a good electrician?"
"um, i think my dad has a number of a good one. hold on and i'll get it."
"well, don't ever use christian electric. they are no good."
"did they rip you off?"
"they sure did! the Lord saw fit to drop a tree in my yard and…" she went on a tangent. and dad gave her the number of an electrician we know.
as we left the place i said to dad, "man, we just can't get away from elderly people. they seek us out somehow."
"i know! jaimie, i think that it's our calling for right now."
"yeah. you… might be right about that."
reefer log:
witch next door L-O-L-A, lola!
marla hawkins
benjamin moore paint popular bathroom wall color
deglosser walmart
how was ice cube killed in boys in the hoo
cool thinds for your room
devil mrs. jones *gasp* jimmy's mom?! NOOOOOooooOOOOO!
May 30, 2005
internet radio is my new boyfriend. the Rollingstone 500 channel is totally making me happy right now. "get up, stand up! stand up for your rights!" yeeeee!
i saw Kingdom of Heaven today. it was okay. i enjoyed it a lot, but i realize that it wasn't that good of a movie. it was basically Ridley Scott's antiwar movie. which, i can appreciate. jimmy did not like it. what i didn't like about it was that orlando bloom's character didn't make any sense. he goes to jerusalem to get forgiveness for…his wife killing herself, and then he kills a priest. so he goes to jerusalem with his new dad (liam neeson) and then he…becomes a knight. and then he sleeps with the queen person. and then when he has the chance to kill the queen's husband (a bad man) he won't do it 'cos…it's wrong? even though he knows that the king dude wants to have a war in jerusalem and orlando's character wants to not have war so that the people don't have to die.
but? it's wrong to kill the guy (king man) who is trying to kill you? because it's… wrong? and you want to be the perfect knight? well, okay but. i might believe you more if you HADN'T committed ADULTERY by sleeping with the queen lady already. i mean, i'm willing to forget about the murder of the asshole priest because that was done in france before you became a knight. but you slept with her afterwards, and you were in jerusalem so…sorry dude. no perfection. so you should've been a pal and killed that guy and saved everyone from dying.
idiot.
oh! jimmy! edward norton was the leper dude!
May 29, 2005 part II
Dante Manglehorn came by the house today as i was clearing out some of beth's stuff. he liked the house. i said, "hey let me show you the outside." and we were walking down the stairs and he said, "yeah, you know my aunt margaret lives a couple houses down."
and i was all, margaret? oh my god. Crazy Margaret is his aunt?! and my face clearly showed shock. and then i said, "oh you jerk! you read the blog didn't you?!" and he laughed and laughed.
it was pretty funny.
dan, i told mom and dad about that and man, did they laugh. dad lost it.
apparently dan has run into Crazy Margaret on some of his Amazing Gas Company Adventures. so he knew all about her Craziness.
***
Crazy Margaret came by this afternoon (before dan came over) and she was talking about i don't know what and she tried to come in my house. that's right, she breeched the fence. shit!
so she starts to come in the door.
"hey, hey, hey! no! you're not coming inside. what do you want?!"
so she goes on about something and then she says, "beth told me you're getting married soon."
"uh…yeah?"
"well, i hate to hear that."
"…what?!"
"your hair sure is pretty." she says as she reaches out to touch my hair.
"no! don't touch me!"
"oh, so you're going to marry that guy who was here the other day?"
"yeah."
"well, i-"
"look, i'm going back inside. you have to go now."
she was chuckling as i shut and locked the door.
ew, bad vibe.
so now i'm locking the fence at all times. if you decide to come and visit me either call first or ring the goofy farm bell in the driveway.
i'm wondering if Crazy Margaret could overpower me and kill me. i'm thinking she probably could. she's bigger and she probably has some kind of Crazy Strength that kicks in when she corners her prey. this is unsettling.
May 29, 2005
"i'm a JAAAAAAAAAAAAAAZZ baby! li'l jazz baby 'at's meeeeee!"
i just discovered internet radio. 'cos i get some kind of free thing with comcast. so after trying out some christian channel (i know. it was really good though.) and some kind of other station that made no impression on me whatsoever…i found a BROADWAY STAAAAATION!
what is it about hearing Carol Channing scratch a song out of the back of her throat that makes me smile? and then next! they played a Judy Garland song! and it WASN'T over the rainbow! which, i love, because i'm a gay man, but it's always a special treat to hear something, anything by the Jude.
Dear Broadway Radio Internet Station on Rhapsody Radio,
i love it. (omg! you're playing impossible dream! marry me?) you make me smile.
don't ever change! well, except maybe not so much andrew lloyd webber, huh?
Love,
jamoo
reefer log:
how to paint over wallpaper spackle any bad spots and obvious seams. then kilz it. then paint it. two coats!
latex douche bag
what color should i paint my entry way
paint monkey sweet!
May 28, 2005
i need to get a picture of my house. that way, when i describe things you'll know what i'm talking about. anyway, my house is fenced in so people can't come and knock on my door which is up a flight of retarded stairs. but there's an old bell on a post that if someone wanted to talk to me they could CLANG CLANG the bell and if i wanted to open the door i could. or. i could look out the window and see that it's Crazy Margaret on her Crazy Bike and not open the door.
but. where's the fun in that?
so Crazy Margaret is out there ringing the bell. so i thought, oh hell. just go see what she wants and then tell her to go away.
so i go out there and she says my neighbor (Crazy Lola) wants to meet me. ah shit. Crazy Margaret also wants five bucks, because she won't get her Crazy Check until wednesday. i gave her some quarters. so i walk to the corner of my yard, within the fence, leaving Crazy Margaret on the outside of the fence. because i don't want her inside my fence. ever.
and Crazy Lola is in her car, she's always in her car driving around. which is not good, because she's crazy. and she drives down the alley by my house, which is where my air condtioning unit is. and let's all everyone pray that she doesn't hit my unit. (huh huh, i said unit.)
ANYway. Crazy Lola is not only crazy, but i'm pretty sure she has alzheimer's. which is sad.
for me.
because talking to crazy is one thing, and talking to alzheimer's is another thing. and when the two are mixed? you end up answering the same crazy questions over and over. after the third round of questions i said, "okay, well you have a good day." and i waved and walked back to the "safety" of my house. and she drove away in a haze of crazy oblivion.
meanwhile Crazy Maragaret followed me on her Crazy Bike (on the outside of the fence, mind you.) and she said, "hey i want to tell you about Lola, okay? she's crazy. don't trust her. 'cos she lies and then she accuses you of stealin'. she'll ask you to help her find her keys and then next day she'll have the police on you for robbing her. so don't ever help her."
"okay."
"and don't go in her house either. it smells bad 'cos she just shits everywhere. she doesn't clean herself. and she'll accuse you of stealin'. but don't be mean to her. don't make her hate you. 'cos she'll send spiders over here."
"…"
"i ain't kiddin'. she talks to spiders. she can control them."
"…"
"and i think she can talk to snakes 'cos i was over at her house and there was a snake in the fireplace. and then later that day the snake came and bit beth's dog."
"okay, i'll keep that in mind."
"she'll tell the spiders to come and bite you. i guess she used to be a witch. that's what people say. they say that 'cos they think she was a lesbian too. because of her tongue always out and all."
then she stuck her tongue out and licked the air. i'm absolutely serious.
see, Crazy Lola has (or had) one of those nervous tic type things where her tongue is/was always out of her mouth and moving around. i know, it's not bad enough that she's Crazy, but she's got The Tongue AND alzheimer's. yay!
"but she don't do the tongue thing around me no more 'cos i rebuked her in the name of jesus' blood and now she don't do that. but i guess she used to be a witch or practice witchcraft."
"okay. well, thanks for the warning. have a good one." and i walked into the relative safety of my own house and locked the door.
Lord, have mercy.
***
CRAZY LOLA: FORMER LESBIAN WITCH.
SHE CONTROLS SPIDERS AND SNAKES, AND SHITS HERSELF! she hypnotizes you with her wandering tongue of lies!
best of all! she lives right! next! door!
***
one thing i should mention. Crazy Lola gets one check a month just like Crazy Margaret, however, i think it's a retirement check from Goodyear. plus she's got a car. i think Crazy Margaret is jealous of Crazy Lola's near lucidity and wheels.
reefer log:
liquid deglosser fumes
penny big sausage pizza
meaning of i've got a brand new pair of roller skates
pitchers of math stuff
cell phone wallpaper monkey
slap the monkey
how to hatch a bad egg to steal from Cowboy Zydeco, "bwuh?"
poop stencils see above
give them the pickle
practical joke ink
hardest plastic
mod wall stencils
pictures of dog piles
four inches christina
girls bursting to poop
May 27
new weekly
May 25, 2005
jimmy and i met one of the neighbors last night. Crazy Margaret.
um, like the name implies, she is crazy. not the fun kind of crazy. she's the real kind of crazy. she gets a Crazy Check from the gubment, crazy.
she talks.
a lot.
what about, you ask? honestly, it's hard to describe. it's amazing, infuriating, and uncomfortable all at the same time. she started crying at one point. then she switched over to how god talks to her and tells her where to ride her bike. at night. in the 'hood.
look, i'm not going to lie to you, i live in the 'hood. i wouldn't walk around my block at night if i had a gun in my pocket, a mean dog on a leash, and jimmy. and god is telling her to go out at night on her bike? god is trying to kill her.
it's obvious that she hears voices that, thank God, we don't hear. and it's also obvious that this lady is going to be a problem. i'm thinking i don't have the patience to deal with her. i'm also thinking that i need some kind of recording device so's all of you can enjoy the crazy.
is there such a device out there? some kind of digital "tape" recorder with a usb port? something small, sleak, and james bond-ish?
reefer log:
thomas pynchon wallpaper what?
singing dutch boy
cat puking whole food
how to tell if paint is oil or latex usually the smell is a dead giveaway. if, it's dry paint, then see how smooth the finish is. if it's really hard, smooth, and you can't see any brush strokes then i'd say it's oil.
elephant testicles
red devil deglosser
women needing to pee
styrofoam sculptures
can i paint my stone fireplace you can but…why?
is eggshell paint better than flat pain hee. pain. not "better", it's just a different finish.
canseco juiced sales
powered hack saw
May 24, 2005
well. i'm mostly moved. sort of.
my back can't take anymore.
at the Holy House yesterday (i went to pick up dad for lunch) i got out of the jeep and right away this lady grabs my arm and says, "i need you to come with me. i have to move a mattress."
oy.
oh well, three mattresses in four days. my body is all, "you suck, jaimie!"
***
i mowed the lawn! is there anything more satisfactory than standing back and looking at your lawn, the one you just mowed? what?
well, yes. of course, beer. but i'm talking about-
what? yes, okay, cable television.
look, i get it. i'm sure that mowing the lawn will get old fast.
***
we got kellyfish moved in to the dreamplex 1.0. i'm glad she's living there 'cos she's closer now, and that means i'll get to see her more often. especially since i still have a key to that side of the 'plex. hee.
May 21, 2005
posting will be spotty, if not nonexistent, for a bit. i've got to figure out what kind of internet service i'm going to get. oh, and move the computer and set it all up and gee, that sounds like no fun right now.
moving went well.
i ate some bad chicken salad today. i am now paying for it.
May 19, 2005
moving sucks. you know this. i'll not bore you with details.
***
would you like to know something that bothers me TO NO END?!
ok, first, you should know that i love sinead o'connor. i mean, i don't love all that she believes and stuff, but i love her voice and most of her songs. HOWEVER. she does a song called Success Has Made A Failure of Our Home, which is basically a Loretta Lynn song (called Success) and at the very end sinead screams a paragraph of something and then "am i not your girl?!" over and over. which, i love that part. but. NOWHERE ON THE CD DOES SHE GIVE CREDIT TO LORETTA LYNN FOR WRITING A BRILLIANT SONG.
of course, i'm looking at the credits on the Greatest Hits Cd and not the Am I Not Your Girl CD, maybe she gave her credit on the original. still, it bugs me. she admits it here though…so she's not a douchebag like jose canseco.
wanna know something else that's kinda douchey? iTunes only has one sinead song. whafuh?
i splurged and bought Spitfire by The Prodigy. iTunes also disappointed with The Prodigy as i was looking for Voodoo People but they didn't have it. derp.
reefer log:
dutch boy singing
pickle server
paint stripes on ceiling
pink duct tape
slutty neighbors
pickle the food pictures
May 18, 2005
updated the fiddy.
this evening liznchris helped me move some boxes from Dreamplex 1.0 to er, My House? laura, i need a cool name for my place. i've been referring to it as my Fortress of Solitude, but that's not cool. also, my numbers aren't even cool. 1101. the 1101.
lame.
point is, some boxes were moved.
later this evening laura came over and packed 6 boxes. 6! boxes! while i packed up my ninetendo and ps2 and a ton of paint.
Dear Jaimie,
You are not allowed to buy more acrylic paint until you use up the colors you already have.
Love,
Jaimie
Dear Jaimie,
But what about oil paint?
Sincerely,
Jaimie
Dear Jaimie,
You don't need any more oils either.
Hugs & Kisses,
Jaimie
Dear Jaimie,
But you know what? I do need a phthalo blue kind of color, something brighter than just ultramarine. I really, really need it. Please?
Please,
Jaimie
PS. Please?
Dear Jaimie,
Fine. Whatever. You're going to go buy it no matter what I say anyway. Why do I even bother?
Love,
Jaimie
***
here's something awesome that happened today. while eating lunch at momndad's house the phone rang and it was for…me? it was some saleslady at Credit Card Company and she was wanting me to buy some kind of insurance for my credit card in case of id theft. well, i told her i wasn't interested and was going to hang up but she kept at it and i said that i really, really don't want that service, and she was all, "buh…" and i was all, "hey wait. you work for Credit Card Company?"
"yes, miss pickle and-"
"well hey, i'm moving this weekend can i go ahead and change my address right now? can you do that? or do i need to call a different number?"
"oh. well, no. i can do it."
"hey great! i'm glad you called!" and i proceed to tell her my new addy and dad is sitting mext to me with his mouth dropped open, stunned, that i turned a sales call into something actually helpful.
my phone calls have been interesting lately, huh? and i'm very pleased with my new phone personality too. i'm all attitude and ruthless efficiency. take that, Credit Card Company!
reefer log:
kilz paint review ladies and gentlemen! it's the Kilz Paint Revue! For tonight's entertainment we have 3 musical acts, 1 comedian, aaaaaand… Gomez Pumpernickel and his Amazing Dachshunds!
heh. Kilz Paint Revue. comes on after the Big Joe Polka Show. eeeep!
May 17, 2005
new weekly.
my two best buddies in the whole world tried to JINX ME!
i had a pretty bad day today, what with cramps and a hangover and then the slut across the street knocking on my door right as i was leaving for work needing to use my phone 'cos her baby daddy or brother or whoever is in jail and blah blah and she can't find anyone to take her to work and can i take her to work? it's her first day at a new job (it. is. always. like this.) and so sure, fuck it. i'll take your sorry ass to work but we are leaving RIGHT NOW. (one time she asked for a ride and i said sure and then she disappeared for 15 minutes. wha?).
so then i get to my job and my cell phone rings and i'm expecting a call from the bank and so i answer it all, "hello?"
"…"
"hello?"
"uhhhh. yeah. wassup?"
"you have the wrong number, g."
"aw yeah? this was on my callah id."
"oh. yeah, christina somebody used my phone."
"aw yeah? das mah sistah."
"yeah that's great."
"well, lemme talk to her."
"… i took her ass to the mall."
"oh. well…"
"yeah. so call the mall." and then i hung up 'cos i was shaking with rage.
5 minutes later the phone rings. i'm rooting for the bank. it's the brother again. canyoubelievethisshit? do you know what horrible things ran through my mind. what horrible racist words were on the tip of my hateful tongue?
"hello?!"
"uh yeah hey. dis christina's brother."
"what."
"well i gotta pick her up from the mall at 5."
"really? well that's fucking awesome. what do you want?"
"well, where do i pick her up at?"
"the. mall."
"but where she work?"
"she's a janitor. for the mall."
"well, do i pick her up in the back of the mall or the front?"
"how the hell would i know? look, i dropped her off at the front entrance, m'kay?"
"oh. aw now, the front like the food court entrance? or like, the one wif the ruby tuesdays?"
"ruby tuesdays. don't ever call this number again."
i am mean and hateful. but c'mon. this shit only happens to me. this NEVER happens to laura or liz. you dirty jinxers! they jinxed me by blogging about my new house before the deal was done. see?! SEE?!
and yes, i did buy a house today. but i don't want to talk about it right now. in fact, i feel sick about it. that's pretty normal though, right? the Post-House-Purchase Blues. the Holy-Shit-How-Am-I-Going-To-Actually-Pay-For-This Doom. the My-God-A-Real-Live-Bank-Lended-Me-Money?!-Are-They-Crazy?! Woe.
ugh, just…i'm going to deal with this tomorrow. no, i'm going to wait till next monday to deal with it. that's what mondays are for.
reefer log:
cat puke i have arrived.
May 16, 2005
"You's a player, and when I say player I mean player cuz your daddy was a player and your uncle was a player."
i really, really love that song.
***
a tip from the Paint Monkey: Benjamin Moore paint is overrated. it's expensive and always takes two coats to cover. ALWAYS. trust me. i use it all the time. it's a status thing. people use bm paint 'cos of the name. they think it's better paint. <whisper> but it's not.</whisper>
i used some Dutch Boy primer once.
once.
what a crock of shit that was.
Benjamin Moore does have a decent primer. Kilz, is of course, awesome.
other things i've learned while being a Paint Monkey:
1. use good brushes. yes, purdy, wooster, and benjamin moore brushes are expensive, but they are WORTH EVERY PENNY. also, WASH THEM OUT, YOU FOOLS. i have used the same 2 and a half inch angled brush for the last 5 months.
walmart has a rubbermaid brand paint brush and they're okay. mod.
2. using the blue or green masking tape is for suckers. although i have used it once or twice.
3. do you want your cabinets painted?
I HATE YOU.
4. if your ceiling has turned off-white, it does not need painting.
if your ceiling is brown, it does need painting. also, stop smoking in the house.
5. YOU CAN MOST CERTAINLY PAINT OVER WALLPAPER. YES. YOU. CAN. LISTEN TO ME, YOU IDIOT. if the wallpaper is not falling off the walls then yes, kilz it and paint it. you can't tell, and it looks hella better than tearing it off and having to paint over messed up drywall. YES YOU CAN.
6. there is no number 6.
7. if i have to tear down wallpaper i'm charging you triple JUST BECAUSE YOU'RE AN ASS FOR NOT BELIEVING ME. THE LABOR HAS NOTHING TO DO WITH IT. okay, it has a small part to do with it. but mostly it's for acting like i don't know what i'm talking about.
8. if you have to paint latex over something that has previously been painted with oil based paint, then you NEED to sand the surface (nothing major, just take the shine off. you don't have to use a sander or anything.) and THEN wipe it down with a liquid deglosser or acetone. trust me, it's better this way. plus, you get to breathe the fumes from the deglosser.
9. it's called a drop-cloth. you should use one.
10. using flat wall paint for interior walls is NOT a sin. you probably shouldn't use it in a bathroom or kitchen (use a semi-gloss, or at least an eggshell.). flat paint covers WAY BETTER than something with a shine, and the shine shows EVERY FLAW your wall has. once you go flat you'll never…eh, anyway, all i'm sayin' is flat paint isn't a bad thing.
reefer log:
she's been on big sausage pizza
girls bursting to poop.
orajel hemorrhoids no! don't do it!
candy paint rims
tom and jerry tattoos
May 15, 2005
wow, i thought i had only missed 3 days. i'm missing two other days.
wrote an entry in the 50 Books about Jose "douche bag" Canseco's "book" Juiced. what a douche.
reefer log:
someone spray painting
cartoon puke
i got a brand new pair of roller skates
outside yard lizards
gross stuff in people's food
craftsman tool box
bad ass stencils
the screaming pickle
watch sex poop
laundry stencils
hack saw blade
pictures of the cars on juiced
boys-n-the-hood pictures
women make love with horse make love? heeeeeee.
May 10, 2005
i was sitting out back with the fam this evening and mom had this wacky song in her head, and she kept singing it over and over trying to figure out some of the lyrics and i wasn't paying that close attention to it 'cos i was talking to my sistah, kelly ree, and then i heard what mom was singing and was all, "oh yeah. i've heard that song before. it's crazy!"
and the song is that screetchy melanie singer from the '60s/'70s, and it goes, "I'VE got a BRAND new PAIR of ROLLER skates and YOU'VE got a BRAND new KEY!" which then got us on the topic of the roller skates we all had as kids.
i had a pretty sad pair. they weren't the awesome boot skates with the rubber wheels and clicky ballbearings. nay. my skates? were the kind like in the doofy melanie song. with the key? did you have those kind too? i mean, yes, if you were a kid during the '60s and '70s then yes, you had those, but you guys in the '80s? did you have those? or did your parents love you and buy you REAL skates with ballbearing clicky wheels of smoothdom?

the neighbor girl had skates JUST LIKE THE BLUE ONE.
at the time i thought she had probably never sinned in her life
to have had such an awesome pair of skates.
my skates were red plastic and scuffed to hell because they were bought second hand. they had frayed laces and you slipped them on over your shoes. they adjusted with a half inch wrench dad kept in the red craftsman toolbox that has forever been in my parent's laundry room. and the wheels? while thankfully, they were not metal, they were made of the hardest plastic that NASA had invented at that time, meaning, if you hit a pebble, it was all over.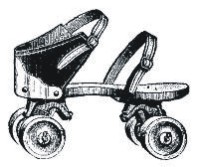 this was my skate. note the absence of the handy rubber toe stop.
meaning the only way to stop in my skates was to hit a wall.
anyone crying yet?
didn't think so.
incidentally, you can't get the melanie version of Brand New Key on iTunes but you can get the cover by rasputina which, no thank you. i don't hate rasputina, i just, no. not Brand New Key for crying outs.
reefer skate:
flat slap building
pickle ass
duct tape gag as in a practical joke? or like what kidnappers use? bah.
May 09, 2005
i can't think of anything notable that happened today.
work.
video game.
beer.
Medium.
beer.
blorg.
i've been playing Super Mario Bros. 2 on my gamecube. i'm on world 3-3. i'm having probs with hanging on to the key and dying right as i get to the door. i hate crap like that. i should be working on my gear sculptures but no, i'm playing mario. slob. DO SOMETHING CONSTRUCTIVE! STOP WASTING TIME ON THIS CRAP!
***
while talking to liznchris this evening i mentioned something about that line from Boys n the Hood. (which, PS, i called Boys From the 'Hood. yes, i'm just that white.) but i couldn't remember the quote exactly so i called my brother because he says it best anyway. he didn't answer his phone, so bummer, right? but then he called back 2 minutes later and was all, "hey! what's going on?"
and i was all, "hey. i called ya 'cos i couldn't remember that quote from boys from the 'hood."
"what? that's all you called me for? no, "hey justin! how's my favori-"
"nope. just the quote from boys from the 'hood."
"it's n the Hood. N. not from. N."
"boys n the hood?"
"yeah."
"oh. well, anyway. that quote?"
"um, lessee, it's <ice cube impression> "They either don't know, don't show, or don't care about what's goin' on in tha 'hood."</ici>
"yeah! that's the one!"
"what the heck brought that up?"
"i saw ice cube on tv."
"oh. you're crazy."
"love you."
"love you too, bye."
what do you suppose the N stands for? and? i guess? but shouldn't the n have the thingies on it? 'n'? it's Rock 'n' Roll. innit? boys 'n' the hood.
could it be for in? boys in the hood?
i don't think so. i mean, there's boys AND then there's the hood. it's not like, there's boys IN the 'hood. 'cos, i mean. i just don't think it's in.
maybe it's just N. it's code. 'hood code. i live in the 'hood, but i don't know the code. all i know is that they either don't know, don't show, or don't care about what's goin' on in tha 'hood.
and don't try to be all polite and, "oh, jaimie, you don't really live in the 'hood." because have you seen the monstrosity that is the Chevelle that's been across the street? not only is it two-tone (body maroon-gold iridescent, hood and trunk gold-maroon iridescent, and yes, there is a difference.), but it's got 22 inch rims. it looks like a joke. the wheels are just too big. it's up too high. like, you could drive a car under that car. it's ridiculous. it's not blinged it's blonged. i saw it yesterday, well, i heard it first. it needs a new engine, but they obviously thought to do the body work first. oh heck, why should i care, right? let the neighbors have their loud broken cars. i've lost my steam. but if the car is out there tomorrow i will take a picture of it, because it's not smooth at all, but in fact, awkward. it looks like it's on it's tip-toes.
reefer log n the hood:
ass burstin
math races
parkinglot spray painting
May 08, 2005
i'm currently reading Juiced by Jose "douche bag" Canseco. gaad, he is SUCH a whiner. i mean, what kind of REAL MAN whines? i guess it must be his shrunken testicles.
shut up, jose canseco, you bag o' douche.
as soon as i finish it you'll get a scathing review in the 50 books section as well as a Weekly. yes, it's JUST. THAT. BAD.
***
we watched the first part of the ELVIS movie on CBS. dude, what is with his relationship with his mom? it's like, eeeeauh. it reminded me of the mary magdalene/jesus relationship in Jesus Christ Superstar. eeeeeauh.
May 07, 2005
True Confessions
when i was in the 6th grade i hated a girl named marla hawkins because she always won the fucking math races. it wouldn't have been so bad but it was like she relished it. she was so superior about it. i mean, math races, for the love.
***
in other news, the cat just puked again. this time, it was a mouse.
Dear Toonces,
You have lost ALL OUTSIDE PRIVILEDGES.
Hate,
Jaimie
i cannot win! God? is this preparation for when i have kids or something? like, if i can handle a cat puking every other day i can handle kid poop and vomit? huh? because let me be honest, I CAN'T HANDLE CAT PUKE EVERY OTHER DAY.
cheeseandcrackers. damn cat. i buy the special food. i brush her SEVERAL times a day with the pretty pink brush JUST so she won't get the HAIRBALLS OF DOOM and then PUKE THEM ON MY CARPET. and she repays me by being a TOTAL DOUCHE and eats a mouse. THE WHOLE THING. like, what cat eats the WHOLE DAMN MOUSE?! it looked like…like she pulled a Tom and Jerry and drew a door on her mouth and the damned, stupid mouse just WALKED RIGHT ON IN.
THEN she comes in and eats a bowl of cat food and promptly pukes everything up in two GIANT PILES. ON! MY! CARPET!
i know what you're thinking. you're thinking i'm a horrible cat owner. that i'm so mean for not feeling bad that the cat is sick. well, I DON'T FEEL BAD. BECAUSE SHE DID IT TO HERSELF. SHE ATE A WHOLE MOUSE. IT'S NOT LIKE I DON'T FEED HER!
SHE IS OLD. SHE KNOWS BETTER THAN TO EAT MICE WHOLE.
YOU WOULDN'T FEEL BAD FOR ME IF I DID IT! YOU'D BE ALL, "GAAD, WHY THE HELL DID YOU EAT A MOUSE? IDIOT."
TOONCES, I AM GOING TO KILL YOU.
***
other things i am hating right now:
thomas pynchon
v. by thomas pynchon
thomas pynchon's buck teeth
reefer log:
the pickle barrel phone pranks
May 05, 2005
update: 50 Books (i'm up to 25! and it's only been 5 months. pshaw, it's in the bag.) (um, actually, yes. this would be considered counting my eggs before they hatch.) egg counter!
***
due to some unfortunate events, dad has become the temporary superintendant of the apartments, while i am now the solo Paint Monkey and Ass. to the Superintendant (or super ass). today it rained so i didn't have to paint on the parkinglot. so today my duties were the super ass. i got to fix a faucet, rake the parkinglot drain (in four inches of standing water), and replace a toilet seat. to be completely honest, i'd rather stand in 4 inches of cold rain water scraping a rake across a clogged-up grate than change out an ancient, nasty toilet seat. gag. it's bad enough when it's your own, right?
Popsicle's day included much more plumbing and grossness.
i hope it's sunny tomorrow so i can break my knees and back painting the parkinglot. anything but plumbing.
***
cat blog.
the cat has been puking in the house more than i'm comfortable with. i'm pretty sure it's just hair ball pukes, but still, it seems odd that she's doing it so often. so i've bought some of that fancy hairball reducing food ($10?!) and also a pretty pink brush with which to brush her once or twice a day. i figured she'd hate the brush since she's been so nervous for the past couple of months (hey guys, remember when toonces would run up to you and be all, "yay! pet me! i'll drool! yay!") and has turned into Hidey Kitty. but, let me tell ya, she loves the pretty pink brush. damn, does she love it. when i brush her she's all, "ooh…yeah. there it is. YES! YES!" then she sticks her ass out at me all, "do me! do me!" and i'm all, "are…are you gay or just slutty?" but oh, her joy. she almost acts like her old self. she even let jimmy the hater brush her.
reefer log:
thinds things have sex with
www.coloraado.com

May 03, 2005
Mutual Admiration Society
liz blogged about my website. wow, was she reaching for an entry or what? hee. but when i read her entry for today i thought, "hm. make a bound edition of the website…. interesting." and then i promptly followed up with, "yeesh, what a waste of ink and paper." i think that if someone gave me a book to read and it was this website i'd say, "yeah, it had some funny parts, but god, the author needs to get over herself. what an ego. and? just what is this "fleegan" thing anyway?" because to me, the website is mine, and the blog is like a diary anyway right? so of COURSE it's ALL ABOUT ME.
ME, ME, ME!
that's what a diary IS.
but a book? that's…that's different. plus, i'd probably have to capitalize proper nouns and use real punctuation. and frankly, i don't think that would work.
***
i'm still the Parking Lot Paint Monkey. today was a little harder than yesterday. today i was spray painting space numbers on the asphalt. space numbers? hee. anyway. i was nervous because it's spray paint and i know how these old people like to blame crap on the paint monkeys.
<old lady voice> "hey! that paint monkey got white spray paint on my car!" </olv>
which would be bad. i DON'T want to get paint on people's cars. and, since the building is the TALLEST building in GADSDEN it creates this er…thingy…where it's windy all the time? what would a smart person call that? anyway, wind and spray paint: nemesis.
the other bad part was being on my knees all day hunched over stencils, spraying, then getting back up to move 4 feet over to hunch back down on my knees to do it all over again. i think there's like, 110 spaces. maybe more counting the VISITORS parking. and i'm not close to being done.
my back is hurty.
my knees are hurty.
wouldn't you think i'd be used to PAINTING THINGS BY NOW?
***
also, my ass hurts. do i have hemorrhoids? silent 'h'? i shall now pronounce them hemmer-hoids. i just want to sit in a tub of aloe or something cool and cream-like. ice cream. sour cream. hell, i'd even go for cottage cheese at this point. i have no soothing ass creams in my medicine collection. wait…maybe some orajel?
nope. i don't have any of that either.
i am totally not kidding when i say that it would be HEAVEN to sit on sour cream. in fact, the more i think about it, i'm pretty sure that's the reason God invented sour cream, for hurty fire ass.
how did this happen?
i promise this won't turn into 'rhoid blog.
well, no i don't.
because if i do have hemmer-hoids, and it ends up being funny in some way, you'll be hearing about it.
sorry.
reefer log:
beer polka
big joe polka show i got to watch it on sat. with jimmy, chris, liz, sara, and west. do you know how much fun that was? it was LOTS. because we are very mean people.
big sausage pizza this has been a very popular search lately. why?
May 02, 2005
updated 50 Books
today i painted parking lot stripes (yellow ones). i'll probably be doing it all this week. it has killed my back. i feel so old and hurty. i have self-medicated my sore back with beer. the pain has lessened but i'm thinking that tomorrow will be a Slow Jaimie day.
in other news i'm working on some gear sculptures. i. am. so. excited. i'm going to make them different sizes and stuff. i'm going to make an installation with them for my living room. i should find my camera and take some pictures (not pitchers, you idiots) of the SECRET PROCESS which involves:
beer
shop vac
hack saw blade (just the blade, not the handle)
knife
styrofoam
spackling compound
gesso
flat black spray paint
sharpie
string
yard stick
i bought purple duct tape yesterday. FINALLY, duct tape for girls. they had pink and green and blue and yellow and camo, but i went with purple. it's candy tape.
reefer log:
tybalt cat
elephant tattoos
pitchers of monkeys
fukker
May 01, 2005
wow. things have been busy lately. i'm not sure what to even write about.
work?
A. nearly killing an old lady with sulfuric acid
B. being forced to paint a STONE FIREPLACE. I REPEAT, A STONE FIREPLACE.
play?
A. i bought the original Metroid for gameboy advance/gamecube.
B. the adventures of getting a bank loan
other?
A. the crazy dinner with jimmy's fam.
1. the one hour wait at Red Fucking Lobster
2. the Winn Dixie cake jimmy had me get instead of baking a REAL cake like i had offered.
3. mrs. jones telling me the reason she voted for "president" bush was because he said he's a christian and that he was for saving little babies. (le sigh. because kerry was a devil worshipping-baby eater, right? gaad. the south.)
B. the crazy demon nightmare i had where i woke up screaming about the Four Corners of the Earth. (sorry liznchris, i hope i didn't disturb you. although, it disturbed the heck outta me.)
1. i had also drooled all over the pillow
2. the poor cat
reefer log:
stupid day cards every day is stupid day!
dog ugly women
horse typewriter cartoon
jimmy hot sausage my new nickname for mr. fleegan.
what's the difference in junior drum set it's…smaller?
pregnant shirt
was the movie locusts by cbs also a book and if it was?
the pickle guy
baes sex pee
found tux cat
allowicious
what does mother's day mean
called slap the monkey game
horrilbe science homepage
how to catch lizards
gross stuff or rotten
barefoot golf
No Comments